EMF Protection Bracelet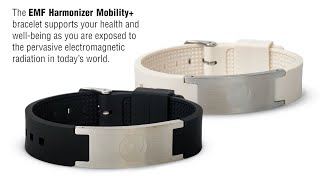 The EMF Harmonizer Mobility+ EMF bracelet supports your health and well-being as you are exposed to the pervasive electromagnetic radiation in today's environment. While driving, shopping, or traveling, in your home, office, or school, you will meet with EMFs emitted by many sources – from your cell phone and wireless devices, from WiFi routers, from cell phone towers, and from countless other sources. The Mobility+ EMF protection anti-radiation bracelet will support your body against the negative health effects of all these EMFs. It is effective for cell phone, WiFi, and all forms of EMFs - including 5G protection.
The Mobility+ electromagnetic protection bracelet is a stylish accessory with a band made of silicon rubber and a stainless-steel metal clasp. It is attractive enough to wear at work or out at night, but durable enough to wear when sporting or working in the garden. It is waterproof and easy to clean, and comfortable enough to sleep with if desired.
On the bottom of the metal part of the EMF bracelet are embedded four energy elements with these added features:
Blue element for additional energetic support to defend the body against the EMF radiation
Green element to enhance energetic grounding to the earth's energy
Brown element for augmenting negative ions that support a balanced energy state
Red element for providing far infrared rays to support healthy physiological functioning
These energy elements on the EMF bracelet together offer an extra level of protection to support your health against the negative effects of EMF exposure.
Features
Waterproof so it can be worn in the shower, bath or while swimming

Easy to clean with water and a mild detergent

Comfortable enough to wear while sleeping

One size fits all, as the band is easily trimmed to fit any size wrist - for younger children we recommend the 

Mobility Wristband

, which is a little more durable and less likely to fall off

The band is made of a soft silicon rubber and the buckle and top metal piece are made of stainless steel, including the energy elements in the bottom
Instructions & FAQ's
Please click here to view the instructions and frequently asked questions for the Mobility+ Bracelet.
Additional Frequently Asked Questions
What is the difference between the Mobility+ bracelet and the Mobility wristband?  The difference is in the style and in the energy of each. The Mobility+ bracelet is a little dressier and more formal, and the Mobility wristband is a little more casual. Both contain the same EMF protection energy of our dual-level technology, and the Mobility+ bracelet has four extra energy elements which provide additional energetic support for the body's health, as described above.

Both provide excellent EMF protection, so it is primarily a question of which style you prefer and whether you want the added health support of the four energy elements in the Mobility+.


Is this an EMF blocking bracelet?  This EMF protection bracelet is not an emf blocker bracelet, it instead provides energetic support to your body while neutralizing the emf radiation that you are exposed to, thereby minimizing its harmful health effects. It is not possible for an EMF protection bracelet to block electromagnetic radiation, so neutralizing and supporting is the only "EMF shield" that works.

So it is an anti radiation EMF protection bracelet, in that it supports your health from any EMF's you encounter from any source, but it is not an EMF blocker bracelet, which is good because your electronic devices will continue to function normally (if it was blocking EMF's then your cell phone and other wireless devices would not function). Please see the How page on our website for details on how the technology works, and the Research page for studies demonstrating its effectiveness.
Great Service
Asked for a replacement wristband and got the whole bracelet replaced!
EMF Harmonizer Mobility+ Bracelet
I think the bracelet is fantastic. I really like that I don't ever have to take it off and I can feel a real difference. I'll get a headache if I don't wear it, which proves it works!
My only complaint is where the metal and the band meet, the 4 corners poke out a bit and the edges are pretty sharp. I've scratched my face on accident. (It was just a bit it and went away almost immediately, but it still surprised me). I wear it on the inside of my wrist because I've had it rub on furniture and it sounds like it might rip the furniture.
I'd like if I could change the band as well. My Dad would rather wear the Mobility+ instead of Mobility bracelet, but he doesn't like the material of the band for the Mobility+.
Over all, I'm very happy with my purchase. I can feel the difference and I like the added energies.
Very nice and comfortable to wear
Doesn't fit
Wrist band is too big and cutting it down would make the edge unfinished. It's uncomfortable wearing it with the end flapping near the front. Do you have a smaller size?
Hi Marian, thanks for sharing your feedback with us! We've reached out to you via email to further assist you with your order so that you can start enjoying your EMF protection.
Kind regards,
EMF Harmony
Band isn't big enough unless you have small wrists
Not for men with large wrists, band isn't big enough.