EMF Protection for Laptops, iPads & Other Wireless Devices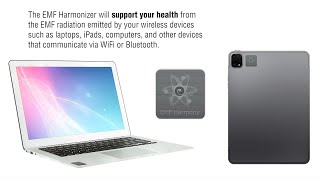 PLEASE NOTE: We are temporarily out of stock of the Harmonizer and expect them to be available again in December. You may order them now and they will automatically ship to you when back in stock, and everything else on your order will ship right away. We apologize for the inconvenience.
The EMF Harmonizer supports your health and well-being as you are exposed to the electromagnetic radiation emitted by your wireless devices such as laptops, iPads, tablets, and Bluetooth devices. It works by harmonizing the damaging energetic frequencies emanating from these devices, as well as by supporting your body against their effects.

Appropriate devices for the EMF Harmonizer include laptops and computers, tablets, iPads, e-readers, and items such as wireless baby monitors, keyboards, printers, appliances, speakers, etc. For more powerful devices please use our other Harmonizer stickers - the Harmonizer+ for a cell phone or the Harmonizer Ultra for WiFi routers and other broadcasting devices.

Features
The Harmonizer is a small 1 inch x 1 inch metallic plastic sticker that you place on the wireless device

. Each box contains one sticker.

It is affixed with the adhesive backing included

.
It can be removed and reused on another device at a later time.
Installation Instructions & FAQ's
Please click here to view the instructions and frequently asked questions for the EMF Harmonizer.
Additional frequently asked questions:
What is the difference between the Harmonizer, Harmonizer+, and Harmonizer Ultra?  The Harmonizer Ultra is designed for the most powerful emitters of EMF radiation in your life - those that broadcast over a wide area or that emit a large amount of EMF's. The Harmonizer+ is designed specifically for cell phones, which are also powerful emitters of EMF's but not as strong as those for which the Ultra is designed. The Harmonizer is for less powerful emitters of EMF's that communicate using WiFi or Bluetooth but are not broadcasting signals over a wide area - this includes wireless devices like laptops, tablets, computers, monitors, "smart" appliances, wireless speakers, etc.
Do you offer a product for wireless earbuds and headphones? Yes, please see the EMF Harmonizer Audio which is designed to provide EMF protection specifically for these devices.
Is the EMF Harmonizer an EMF radiation blocker sticker?  No, the Harmonizer is not an EMF blocking device, it neutralizes the electromagnetic radiation to help shield your health from its damaging effects. It is not possible for an EMF protection sticker to block electromagnetic radiation, so neutralizing is the only "EMF shield" that works. So it is an EMF anti radiation sticker in the sense that it protects you from the radiation from your wireless devices, but it is not a radiation blocker sticker, which is good because your wireless devices will continue to function normally (if the EMF's were blocked then they would not work). This also means the anti-radiation effect cannot be measured with an EMF meter, but it can be measured with physiological tests of your health parameters when using it (see our Research page).