EMF Protection for Home & Office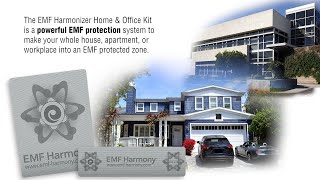 The EMF Harmonizer Home & Office supports your health and well-being as you are exposed to the ubiquitous electromagnetic radiation in today's home and workplace environments. It works for EMF's emanating from within your whole house or workplace as well as those emanating from outside of it. This includes WiFi, cell phone towers, smart meters, and all forms of EMF's. In addition, it creates a healthier environment by generating a natural balance of positive and negative ions, helping to remove unhealthy fine particulate matter from the air.
Since we spend so much time in our homes and workplaces, these are the most critical areas in which EMF protection is required. They are both filled with electromagnetic radiation coming from within and without, including WiFi routers, cell phones, computers, wireless electronic devices, and even conventional electric current. The Home & Office works by creating an EMF proof protected zone, but is not an EMF blocker, so your devices continue to operate normally. The energy of all the EMF radiation within the zone is harmonized, thus supporting your body against its negative health consequences.
One Home & Office Kit provides protection for homes or workplaces served by a single fuse box, and consists of:
One larger thin metal plate of 3 inch x 2.5 inch that is placed on the inside of the fuse box door.
A number of smaller thin metal plates of 2.25 inch x .5 inch (how many depends on the size of the area to be covered) . These are placed on some of the outlets around the area to be protected.
These thin metal plates have adhesive backing that adhere them to the surface where they are placed.
If you don't have access to the fuse box in the area to be covered (for example in a workplace), then you may purchase the smaller metal plates individually to create a protected area. See 'How to Order' below for further instructions.
Features
Provides you with much needed protection against the negative health effects of the EMF radiation from 5G technology, as well as older cell phone technology, WiFi routers, smart meters, wireless appliances, and even EMF's from conventional electric power and geopathic stress.
Works on EMF's coming from outside the protected space as well, such as your neighbors' WiFi routers or nearby power lines and cell phone towers.
Not an EMF blocker, so the wireless devices in your home or office continue to operate normally. The system neutralizes the EMF radiation and provides support to the bodies of everyone within the protected area.
Restores a natural balance of positive and negative ions, helping to remove unhealthy pollutants from the air. The additional negative ions will cause ultra-fine particles (dust, pollen, smoke, dander, air pollution) to bind together and fall to the floor instead of remaining in the air for you to breathe into your lungs. This ion balance will also give the area a better overall "energy", similar to the good feeling you get when you are out in nature.

How to Order
If you DO have access to the fuse box you will purchase a Home & Office Kit, choosing the model based on the area serviced by the fuse box, as follows:
1500 – for areas up to 1,500 square feet (1 large & 4 small plates)
2600 – for areas from 1,500 to 2,600 square feet (1 large & 7 small plates)
3700 – for areas from 2,600 to 3,700 square feet (1 large & 10 small plates)
4800 – for areas from 3,700 to 4,800 square feet (1 large & 13 small plates)
The calculated area should include the basement and garage if they are serviced by electricity, whether you use them or not (the Home & Office spreads throughout the entire area covered by the fuse box). If you have an area larger than 4,800 square feet, you will simply purchase one of the Home & Office Singles for each additional 400 square feet.
If you DO NOT have access to the fuse box you will purchase a number of Home & Office Singles based on the size of the area to be covered, as follows:
Up to 1,000 square feet – purchase four Singles
For each additional 375 square feet – purchase one additional Single
Please click here to view and purchase the Home & Office Single
More details on choosing the right configuration and installing the kit can be found at the link below in "Configuration & Installation Instructions & FAQ's".
Configuration & Installation Instructions & FAQ's
Please click here to view the instructions for configuring (choosing what to order) and installing (after you have received your order) the Home & Office system, as well as frequently asked questions.
Worth the investment!
After researching the effects on EMF radiation and the negative impacts on overall health, I decided to pull the plunge and protect our home. So glad I did! We noticed several benefits right away which I was not expecting! Overall, our home has more positive energy, feels tranquil, and our quality of sleep is much better which has provided substantial benefits as well. We have also noticed a big difference in our stress/anxiety levels...even when outside of the home! It was very easy to install. We added these with tape to the back of our outlets so we can easily remove if we should ever decide to move and take our protection with! Since installing this kit, we have also added the WI-FI router, wireless device, and cell phone harmonizers. We are amazed by the positive impacts in our home and lives! I would highly recommend this to anyone wanting to take their health and well-being to the next level!
Wonderful products
Over the past year we have invested in bracelets (the new version with leather, very nice looking), patches for devices, and now the home/office system.
People really notice how "peaceful" or "tranquil" the house feels when the come inside.
Friends to whom we have given these products as gifts say that they can't articulate clearly what they notice when they go to work, for example, wearing a bracelet or necklace, but they do say they feel "different," and that that difference is a good one. Several of them work in environments where there is a lot of EMF -- they are software engineers and ER nurses.
Thank you so much for sharing your experience, Kim! This is so beautiful to hear. We're happy that you're enjoying your products and can feel a positive difference since using them. You've made our day!
Great! Our Baby Has Never Slept this Well!
I purchased the Home and Office Suite and the Harmonizer Ultra for my Wifi router. I was going to keep an eye in the following few weeks to see if I could notice a difference with my kids and wife combined with keeping track of how I felt. First night we had this setup, my 11 month old son slept 11 1/2 hours straight!! He has never done this, had historically been waking up every 4-5 hours. After the first night I have the proof I needed, I was not expecting that!
Should have done a while ago
I had been doing research on EMF protection but never pulled the trigger, I was skeptical. I finally took the chance and figured I would use my house plants as a confirmation it was working and protecting. My plants have never looked better and I sleep much deeper at night! Well worth it and should not have waited so long. EMF Harmony is easy to install an protects both floors of our house!
Better Sleep and Better Focus
I installed the Kit 1500 at my house and slept better immediately that night!
It's been over two months now and I have to say a general fog has been lifted from my mornings. I have had better lucidity in my dreams, and have been waking up more refreshed than I have in a long, long time!
Growing up in a small town and then moving to Metropolis, one of the first things I noticed was how MUCH MORE electrical systems, and general technology we are subjected to in the Urban Environment. I have reclaimed my circadian rhythm I remember having as a youth growing up in Rye, CO.
I am also a musician who spends a heck of a lot of time staring at screens and using a lot of electrical technology.
I have, literally, only seen positive impacts from the integration of EMF Harmony. From the aforementioned sleep boost, to more motivation during the day, continued focus on tasks throughout the day, and I've even been more driven to stretch and drink water at a more proper rate.
Could not recommend these products any more strongly!