Cell Phone EMF Protection Device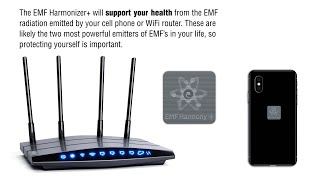 The EMF Harmonizer+ is an EMF protection sticker to support your health as you are exposed to the electromagnetic radiation emitted by your cell phone, one of the most powerful EMF emitting devices in your environment. It works by harmonizing the damaging energy emanating from your phone, as well as by supporting your body against its harmful health effects.

The Harmonizer+ is a small anti-radiation EMF sticker to shield you from the negative effects of EMF's emitted by your smartphone that use cellular and WiFi signal communication (mobile phone). For more powerful EMF emitters like a Wi-Fi router, smart meter, or other broadcasting device please use the Harmonizer Ultra, which can be found here. For less powerful wireless devices that simply communicate via WiFi such as a laptop, tablet, e-reader, or Bluetooth device you should use the standard EMF Harmonizer, which can be found here.
Features
The Harmonizer+ is a thin 1.2 inch x 1.2 inch stainless steel sticker that you place on the bottom of your phone. Each box contains one sticker.

It can be affixed with the adhesive backing or simply placed between a cell phone case and your phone.
You place it on the back side of the phone near the bottom, and it is very thin so you can easily put a case over it and it will not affect its performance. If you use a wireless charger it is important to place it toward the bottom of the back of the phone and not in the center (see the Instructions/FAQ link below for details).

It can be removed and reused on another phone at a later time (see the Instructions/FAQ link below for details).
Provides 5G protection for the latest, most powerful phone models.
Installation Instructions & FAQ's
Please click here to view the instructions and frequently asked questions for the EMF Harmonizer+ EMF protection sticker.
Additional frequently asked questions:
What is the difference between the Harmonizer, Harmonizer+, and Harmonizer Ultra?  The Harmonizer Ultra is designed for the most powerful emitters of EMF radiation in your life - those that broadcast over a wide area or that emit a large amount of EMF's. The Harmonizer+ is designed specifically for cell phones, which are also powerful emitters of EMF's but not as strong as those for which the Ultra is designed. The Harmonizer is for less powerful emitters of EMF's that communicate using WiFi or Bluetooth but are not broadcasting signals over a wide area - this includes wireless devices like laptops, tablets, computers, monitors, "smart" appliances, wireless speakers, etc.
Why do I need an EMF protection sticker for my cell phone?  Your cell phone is constantly emitting EMF radiation, even when you are not using it. And when on a call, the level of EMF's increases dramatically. Since most people have their phone with them constantly, using an EMF anti-radiation sticker to shield you from the health consequences of the EMF exposure is important.
Why do I need EMF protection for my WiFi router?  A WiFi router, a WiFi booster/extender, or a modem/base unit that transmits WiFi signals are all powerful emitters of EMF radiation. These devices and your cell phone are generally the most powerful EMF devices around you.
Is the Harmonizer+ an EMF radiation blocker sticker?  No, the Harmonizer+ is not an EMF blocking device, it neutralizes the electromagnetic radiation to help shield your health from its damaging effects. It is not possible for an EMF protection sticker to block electromagnetic radiation, so neutralizing is the only "EMF shield" that works. So it is an EMF anti radiation sticker in the sense that it protects you from the WiFi or cell phone radiation, but it is not a radiation blocker sticker, which is good because your cell phone or router will continue to function normally (if the EMF's were blocked then they would not work). This also means the anti-radiation effect cannot be measured with an EMF meter, but it can be measured with physiological tests of your health parameters when using it (see our Research page).
I wish I had this sooner!
I never knew I needed this & I wish I bought it sooner. My headaches are better which helps me sleep better at night, which is a huge plus. I work from home so I'm on my computer/phone A LOT, so I love knowing that I am protecting myself. Highly recommend!
EMF Harmonizer+ for Cell Phone MUST HAVE EMF PROTECTION
🏖Aloha🐢
Wow what a Journey with EMF (Electric & Magneric frequencies) i use a Meter to test for these frequencies Which cause Havoc with The Electric Field of Your Own Body...Give you Example your Heart is a Electric machine, having Extention cords near you Are So high in Electricity its SHOCKING to read on a EMF meter. I use the Brand new TriFIELD model TF2. The Journey with Harmony Started this quest to find the Truth regarding my heart fluctuations and How high were these Electro Magnetic Frequencies....I found out it was SERIOUS and i was absolutely hurting myself by lack of Widsom in these Areas...For example E-M-F....the M is magnetic like Wires behind walls or a Breaker BOX fuse box near you for example...The Frequencies coming off my S23 Ulta Samsung was So High I get High being around it without understanding....
So i won't go on to long but let's get down to some Truths about Facts once you Test EMF on your Phone with a Good meter and you know the Readings which is super simple...so my phone was reading 14.0 mW/2...well without all the Details it should read 0.02 maximum....THE TriFIELD instruction say High at 0.200 OK What's The Difference in These Two numbers 0.200 and what my Phone was reading at 14.0...Let's just say It's changing my Heart Rate as its so High its hurting me and My Body. I had purchased the Harmonizer Mobility Braclet and the Purchased the Phone Harmonizer+ For Cell Phone immediately after I put This BRACELET ON...WOW it was like ANOTHER world With The Bracelet.....but for now I'm Going to Share The Phone Harmonizer+...
Received the Sticker TOOK MY CASE OFF and Put on back of My Phone Then put case On...Using EMF HARMONIZER STICKER made my Heart NOW not Have any Fluctuations as THE tests YOU READ and The Results Harmony Published in there Site SAY EXACTLY WHAT HAPPENS...your Body Relaxes with The Radiation NOW...and Changes the Effects of THIS radiation coming off the Phone pulsating waves PULLING IN THE carrier signal and This EMF and NOW my body is a Peace With these waves...SO listen up and I will end my review...Harmony has Tests they have done...many on there site...you hit see The Full tests click here it says...THEN SEE FOR YOURSELF...what happend to my Heart on there Heart Test...how Those EMF PULSES change and Protect your Heart and organs...With facts...not fiction...
My life has completely changed...The EMF...Electric and Magnetic...FREQUENCIES have a BODY GUARD NOW...my whole Body and nervous System Has Changed all in the TEST please look and see these TESTS...it's important as to PROTECT YOUR Electical Body System feel like I ...CALM...OH BOY what a Change...SO I use The Harmonizer Bracelet for Everything for my body THEN is use The Emf Harmonizer+ Chip or Sticker to Harmonize my Phone EMF to my body...so I have Better protection and I FEEL IT...this sticker EVEN BETTER ....USING BOTH FOR ME as I use my Phone full time...
I'm happier now because of These Men Providing This Technology and I understand How it Works because I Feel it and Feel my Heart and My Body is Now Like I'm sleeping Changing this Emf hitting my body to Change it and Help my Body better Deal with this Electro Magnetic Frequencies. It Works plain and simple.
Mahalo to Harmony Just SPECTACULAR Devices and Will say These Devices are Must Have also I would recommend the Meter to see for Yourself The Dangerous Frequencies all around you possibly if You Use Electric things and Mobile Data and WiFi and see How High and what it does to your Body and Try if you can Read the Studies and Get some Protection and live a Better life and be Happier as i...Thank you Harmony so
sincerely, gregory
On The Large Island of Hawaii
🌴Aloha🌴 to You all
EMF cell phone harmonizer
I have installed the harmonizer on my cell phone which by the way is very easy to do. I have noticed just in the past couple of days that I may be sleeping better and hopefully it is from the harmonizer doing its job. Anyways, I do feel more protected from the EMF's.
Great products !
So grateful for you excellent products and research to back it up! The price is well worth it. Thank you!
Easy to use.
Too soon to detect a difference. I like to product. Delivered on time.