Smart Watch & Fitness Tracker EMF Protection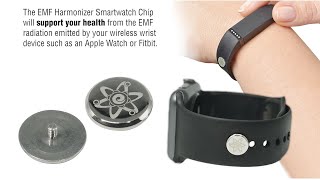 The EMF Harmonizer Smartwatch Chip is a small but powerful EMF protection device that fits into the band of any wireless wrist device to provide protection from the EMF radiation emitted by that device. Perfect for the Apple Watch, Fitbit, or any smart watch or fitness tracker.

Your smart watch or fitness tracker is constantly emitting EMF's and is of course directly on your body for long periods, so protecting yourself is important! Now you can enjoy the convenience of your wireless connected wrist device without the worries about the damaging health effects of its electromagnetic radiation.
The Smartwatch Chip is a small and discreet 7/16" stainless steel "rivet" that will screw into any rubber, cloth, or leather watchband (although not metal unless there are holes in it). You simply insert it into an existing hole in the band or make a small opening with a sharp object, insert the post, and screw on the other side.
The Chip is waterproof, durable and so small that you will not notice it at all.
Installation Instructions & FAQ's
Please click here to view the instructions and frequently asked questions for the Smartwatch Chip.
Please be sure to tighten it with a screwdriver when inserting it into your band so that it does not come loose and get lost!
Smartwatch Chip vs. Apple Watchband and Other Wearables
The difference between the Smartwatch Chip and our EMF Harmonizer Apple Watchband and our bracelets and necklace is that the chip protects you primarily from the EMF's from the wrist device, whereas the watchband and other wearables protect you from all EMF's that you encounter from any source. The reason for this is that 1) the others hold more energy by virtue of their size (the bands and necklace chain are energized in addition to the metal parts) and 2) because the band or necklace circles the meridians in your wrist or neck, the energy gets circulated throughout your body through your meridian system. This distributes the energy more thoroughly and in greater quantity, offering more protection.
So the Smartwatch Chip is similar to the Harmonizer+ for cell phones and Harmonizer for other wireless devices - it neutralizes the EMF radiation from the device to which it is attached and provides some energetic support to the body as well, which will help with other EMF's you encounter. This energetic support for the body is not at the same level as the Apple watchband, bracelets, or necklace, but is significant nonetheless,
Amazing difference
I'm very sensitive to EMF and usually feel an ache or pain whenever my phone is in my pocket or I'm holding it too long. I haven't been wearing my Fitbit due to an ache I would feel in my arm.
I immediately noticed a difference after adding the chip to the band of my fitbit. The ache was completely gone! But after a couple of weeks, I'm starting to feel some aching on and off whenever I'm wearing the Fitbit. It's not nearly as bad as it was, but for some reason, I'm starting to feel it again.
Chip
I'm not sure if this chip is doing anything as I'm hoping it does. I do like the fact that I can use this on any watch band for my Apple Watch since I change my band quite often.
iWatch support
It was recommended by a friend that since I wear an iWatch, I should get some protection from emf. I got this small "dot" that goes into the watchband, and it looks clever and, upon testing, it really works well. Very pleased. I now have EMF protection all over the house and car.