EMF Protection Wristband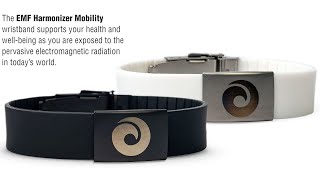 The EMF Harmonizer Mobility anti-emf wristband supports your health and well-being as you are exposed to the ubiquitous electromagnetic radiation in today's environment. While driving, shopping, or traveling, in your home, office, or school, you will meet with EMF's emitted by many sources – from your cell phone and wireless devices, from WiFi routers, from cell phone towers, and from countless other sources. The Mobility wrist band will support your body against the negative effects of all these EMF's. It is effective for cell phone, WiFi, and all forms of EMF's.
The Mobility is a stylish accessory with a band made of silicon rubber and a stainless-steel metal clasp. It is attractive enough to wear at work or out at night, but durable enough to wear when sporting or working in the garden.
Features
Waterproof so it can be worn in the shower, bath or while swimming

Easy to clean with water and a mild detergent

Comfortable enough to wear while sleeping

One size fits all, as the band is easily trimmed to fit any size wrist, even

 a child's
Sizing Instructions & FAQ's
Please click here to view the instructions and frequently asked questions for the Mobility Wristband, including a helpful video that explains how to size and attach the band when it is first received.
Please click here to order a replacement band only for your Mobility Wristband.