EMF Protection for Cars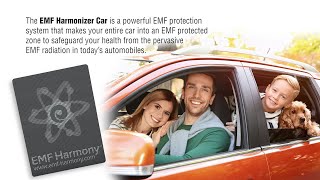 The EMF Harmonizer Car supports your health and well-being as you are exposed to the electromagnetic radiation emitted by your automobile. It offers EMF car protection by neutralizing the damaging energetic frequencies emanating from the electronics in your car, as well as from those coming from outside of the car.
The EMF Harmonizer Car is a small 3 inch x 2.5 inch metallic plate that you place in an area near the driver, such as the console area between the two front seats, on the steering wheel column or dashboard, or under the driver's seat (facing up). You may remove the tape on the back and use the adhesive to stick it to a surface, but that is optional. We also offer an air vent holder accessory that inserts into an air vent on the car's dashboard and holds the Harmonizer Car in place, which is available here.
EMF Protection Car - Hybrid or Electric
For an electric or hybrid car, it is recommended that you install a second unit in the back area of the vehicle.
Installation Instructions & FAQ's
Please click here to view the instructions and frequently asked questions for the EMF Harmonizer Car.
Optional Air Vent Holder
To purchase the optional air vent holder for the EMF Harmonizer Car, please visit this page.
Makes a difference
I placed the harmonizer in the car and left for a trip. I rented a newer car and began to receive headaches from being in the car. When I came back and went into my vehicle I have been headache free. This is a great product.
really works!
i recently purchased 2 for my hybrid car. i switched cars with my hubby & he has an electric car & i noticed i was really tired while i was driving, then it hit me that he doesn't have these harmonizers, so i'm here today to buy them for his car bc i'll be using it more often these days since we are letting our teen use my car.
No going back
I recently got a new car, after having had only low-tech cars.
The new one has all the par-for-the-course electronics. Though not a hybrid or electric, I got two Harmonizers. (I figured I might be driving in 5G soup.)
I installed them on the inside of each front seat, using black velcro easy to remove Command strips. (So I did not even need to peel off the backing from the Harmonizers.) They are staying in place and looking downright elegant.
Only after I installed them did I realize that driving this car had been unduly exhausting. I had figured that the stress of being new to SUV driving made me tired. But now that I installed the Harmonizers, driving is no longer an energy drain. I even feel the difference when just sitting in the car. The atmosphere feels lighter. Happy!!
replace harmonizer
when i was in a car accident and my car was totaled, I cleaned out my broken car and only received 2 of my car harmonizer. Hybrid cars need 3-so purchased another one.
I am so sensitive to EMF's, that i wear a wrist ban and have harmonizers on all my EMF items-2 computers, laptop, router, cell-so my BP is great!
Blood pressure
i do have high blood pressure, which is totally controlled with 1 small pill. recently whenever I had to have medical procedure and they took my blood pressure and it way way high. Could not have the procedure. After pondering about this, I realized that in April I got a new car, a prius-and didn't drive much (covid), but am driving for medical issues-and a light went on-I ordered and installed 2 harmonizers in my car, one wrist band and when I got home and took my blood pressure-it was GREAT. Now also on my computers and cell.
Thank for harmonizers.