EMF Protection Pendant Necklace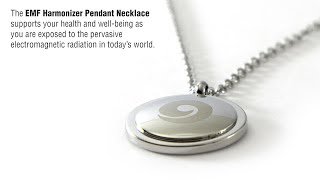 The EMF Harmonizer Pendant Necklace supports your health and well-being as you are exposed to the pervasive electromagnetic radiation in today's world. While driving, shopping, or traveling, in your home, office, or school, you will meet with EMF's emitted by many sources – from your cell phone and wireless devices, from WiFi routers, from cell phone towers, and from countless other sources. The Harmonizer Pendant EMF shield necklace will support your body against the negative health effects of all these EMF's. It offers EMF radiation protection from all forms of EMF's that you encounter everywhere you go - including 5G protection.
On the back of this anti-EMF pendant are embedded four energy elements with these added features:
Blue element for additional energetic support to defend the body against the EMF radiation
Green element to enhance energetic grounding to the earth's energy
Brown element for augmenting negative ions that support a balanced energy state
Red element for providing far infrared rays to support healthy physiological functioning
These energy elements on the EMF shield pendant together offer an extra level of protection to support your health against the negative effects of EMF radiation exposure.

Features
Made of stainless steel, and water resistant

Comfortable enough to wear all day
The pendant measures 7/8 inch in diameter and 1/8 inch in the center where it is thickest
The necklace chain is 23 1/4 inches long

Instructions & FAQ's
Please click here to view the instructions and frequently asked questions for the pendant necklace.
Additional Frequently Asked Questions
Is this an EMF blocker necklace?  This EMF protection necklace is not an emf blocking pendant, it instead provides energetic support to your body while neutralizing the emf radiation that you are exposed to, thereby minimizing its harmful health effects. It is not possible for an EMF protection necklace to block electromagnetic radiation, so neutralizing and supporting is the only "EMF shield" that works. So it is an anti radiation EMF protection necklace, in that it supports your health from any EMF's you encounter from any source, but it is not an EMF blocker necklace, which is good because your electronic devices will continue to function normally (if it was blocking EMF's then your cell phone and other wireless devices would not function). Please see the How page on our website for details on how the technology works, and the Research page for studies demonstrating its effectiveness.
Love the Pretty Pendant but I Replaced the Chain
I love the EMF PROTECTION PENDANT NECKLACE. What I love is that it looks just like a pretty necklace. Plus, I feel calm and happy when I wear it. However, I did not like the chain -- it didn't look as classy as the necklace so I replaced it with a beautiful white gold chain. Shame you don't have a prettier, more elegant chain. Otherwise, I would give it 5 stars.
So far so good
The necklace seems to be good quality and appears to relax my system. Looking forward to seeing the effects as time goes on so my evaluation can be more accurate.
It looks nice. Not really sure it it has made any difference, but hope it is blocking emfs.
EMF HARMONIZER NECKLACE
12/20/22. I received my pendent about 2 weeks ago. I have been wearing it continuously . I have noticed that I do NOT have the noises brain fog which has created havoc in every day life . Also affecting my fatigue level. I look forward to having more and more relief from all the Emf magnetic waves I encounter in my life .
The only drawback is the chain . It is stainless steel and tarnishes quickly . This quality of a product warrants a sterling silver chain . I will be upgrading the chain . The pendent is a pleasant design which one hardly notices it is there .
I have been educating others as to what it does and recommend they check it out !
Thank you Marti wright Mueller
Love it!
I slept amazing the first night!!!! I immediately felt the effects of it working. I normally take a while to cal asleep. After putting it on I felt so good and relaxed