EMF Protection Bracelet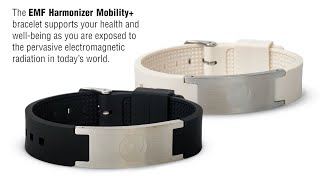 The EMF Harmonizer Mobility+ EMF bracelet supports your health and well-being as you are exposed to the pervasive electromagnetic radiation in today's environment. While driving, shopping, or traveling, in your home, office, or school, you will meet with EMFs emitted by many sources – from your cell phone and wireless devices, from WiFi routers, from cell phone towers, and from countless other sources. The Mobility+ EMF protection anti-radiation bracelet will support your body against the negative health effects of all these EMFs. It is effective for cell phone, WiFi, and all forms of EMFs - including 5G protection.
The Mobility+ electromagnetic protection bracelet is a stylish accessory with a band made of silicon rubber and a stainless-steel metal clasp. It is attractive enough to wear at work or out at night, but durable enough to wear when sporting or working in the garden. It is waterproof and easy to clean, and comfortable enough to sleep with if desired.
On the bottom of the metal part of the EMF bracelet are embedded four energy elements with these added features:
Blue element for additional energetic support to defend the body against the EMF radiation
Green element to enhance energetic grounding to the earth's energy
Brown element for augmenting negative ions that support a balanced energy state
Red element for providing far infrared rays to support healthy physiological functioning
These energy elements on the EMF bracelet together offer an extra level of protection to support your health against the negative effects of EMF exposure.
Features
Waterproof so it can be worn in the shower, bath or while swimming.
Easy to clean with water and a mild detergent.
Comfortable enough to wear while sleeping.
One size fits all, as the band fits any size wrist up to 7.5 inches. For younger children we recommend the Kids's Band. For very small or very large wrists the Mobility Wristband may be a better option.
The band is made of a soft silicon rubber and the buckle and top metal piece are made of stainless steel, including the energy elements in the bottom.
Instructions & FAQ's
Please click here to view the instructions and frequently asked questions for the Mobility+ Bracelet.
Additional Frequently Asked Questions
What is the difference between the Mobility+ bracelet and the Mobility wristband?  The difference is in the style and in the energy of each. Both contain the same EMF protection energy of our dual-level technology, and the Mobility+ bracelet has four extra energy elements which provide additional energetic support for the body's health, as described above. Both provide excellent EMF protection, so it is primarily a question of which style you prefer.


Is this an EMF blocking bracelet?  This EMF protection bracelet is not an emf blocker bracelet, it instead provides energetic support to your body while neutralizing the emf radiation that you are exposed to, thereby minimizing its harmful health effects. It is not possible for an EMF protection bracelet to block electromagnetic radiation, so neutralizing and supporting is the only "EMF shield" that works.

So it is an anti radiation EMF protection bracelet, in that it supports your health from any EMF's you encounter from any source, but it is not an EMF blocker bracelet, which is good because your electronic devices will continue to function normally (if it was blocking EMF's then your cell phone and other wireless devices would not function). Please see the How page on our website for details on how the technology works, and the Research page for studies demonstrating its effectiveness.
Yay!! To being healthy!
I've been wearing my EMF bracelet for a week now, and I haven't felt my hands tingling. I was diagnosed w carpal tunnel syndrome . I work a lot using my hands , especially in a cold environment. I used to feel my hands tingling after a long day of work . But ever since I started wearing my EMF , bracelet , it seems to have stopped . I am less worried , and I am mentally healthy. Thanks to EMF harmonizer, it works !
My boyfriend loves this bracelet
I recently purchased the Harmonizer Mobility Plus bracelet for my boyfriend, who works as a plumber. I must say, this bracelet has made a significant impact on his overall energy levels and well-being.
Since he started wearing the bracelet regularly, he has been raving about how it has brought balance and grounding to his daily life. The difference he feels is truly remarkable. His energy is more stable.
As a plumber, he faces physical and mental challenges on a regular basis. However, with the Harmonizer Mobility Plus bracelet, he has noticed a significant improvement in his overall well-being. It has become an essential companion in supporting his energy.
I am thrilled to see the positive effects this bracelet has had on my boyfriend's daily life. It's wonderful to witness how it has enhanced his overall mood and vitality.
Mobility bracelet awesome
I purchased the white mobility+bracelet in July of 2021. The silicone band is just now starting to tear. I have worn this bracelet every day for almost 2 years. It does work. From the moment I started to wear it, my anxiety level dropped. I am more at peace and calm. I also purchased the harmonizers for all our cell phones, our laptop, and router. My husband wears the pendant. Wish there was a replacement band for this one. But I have my eye on the new mobility wristband. :)
Wow! is a Understatement for EMF Harmonizer Mobility+ Bracelet.
Yes it's True the Harmonizer Bracelet as soon as recieve went on my wrist.
Immediately my Heart especially knew something was up. The difference of the Effects of EMF from my Phone S23 ultra Newest Samsung Phone against my body with DATA on was immense. i used a Trifield TF2 EMF Meter measurement and it's High EMG coming off Phone when Data 4g only is on...The meter is Newest on market just received and readings were as high as 14 mW/m High. Ratings from TriFIELD instructions say: 0.200 mW/m to 1.000 mW/m SAFE LEVELS
WELL 14 is not save by any Standards so we knew this Must be Midagated.
This Bracelet was so dramatic for my body and I could feel my Heart Relaxing THAT was very interesting I must say...It took a day or so to my body to adjust as IT FELT MUCH BETTER and allowed my body to calm down...Now I Understood What The Test That were posted Were. i was my Own test Subject and WOW wee I'm happy...OH yes...I immediately ordered The One for Phone on Back its Arriving in 5 days in USA and I'm looking forward to That device from Harmony as well. My life has changed by this Technology in a Tremendous Was and I'm feeling much better with EMF Harmonizer Mobility+ Bracelet and now can work with the Phone much better With less Stress.
We Would like to say 🌴Maholo🌴 to EMF Harmony for This Product and The Website with all The Test and Experiments Posted and the Results of there EMF Harmonizer Mobility+ Bracelet its made my life and Body much better and are Very Appreciative to Emf Harmony.
gregory from the Large Island of Hawaii says 🍍Aloha🍌 to Harmony and Maholo to you All
Mobility Plus Bracelet
I had purchased an EMF pendant from another EMF company.
But, found taking it on and off with clothing changes and at
night to place under my pillow and then weekly having to take it
off and harmonize it was more complicated than just wearing this
bracelet that stays on all the time, even while sleeping.
I like the bracelet but sometimes the silicon rubber part sticks a bit
on my clothing sleeves. Haven't tried it doing any hard physical
work yet so don't know how readily it would hold up to any extended
physical use. Overall, satisfies my needs.